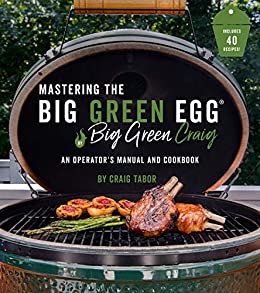 I met Big Green Craig at a Kamado Joe Block Party at the KJ corporate offices. Being new to the brand I didn't really understand why they welcomed a guy to the party that was such an advocate of a major competitor.
When you buy this book you will understand why Craig's knowledge transcends just one brand or type of charcoal grill.
In the first few pages I learned a more efficient way to light both of my Kamado Joe's depending on how I was cooking. I also learned how the basics around grilling,baking and smoking in a kamado grill. L was able to understand how to configure the grill for the best results depending on what I was cooking.
Don't be scared off by the Big Green Egg specifics in the how tos and recipes.
Craig is going to tell you how to select meat and cuts based on what type of meal you want to prepare.
There are also lots of recipes for making side dishes and deserts on your grill with the type of grill know how you need to succeed.
Besides its less than $10 if you buy it for the kindle and you will be supporting a great guy in the BBQ community.
I don't receive any compensation for this review just raising the volume for a great guy.