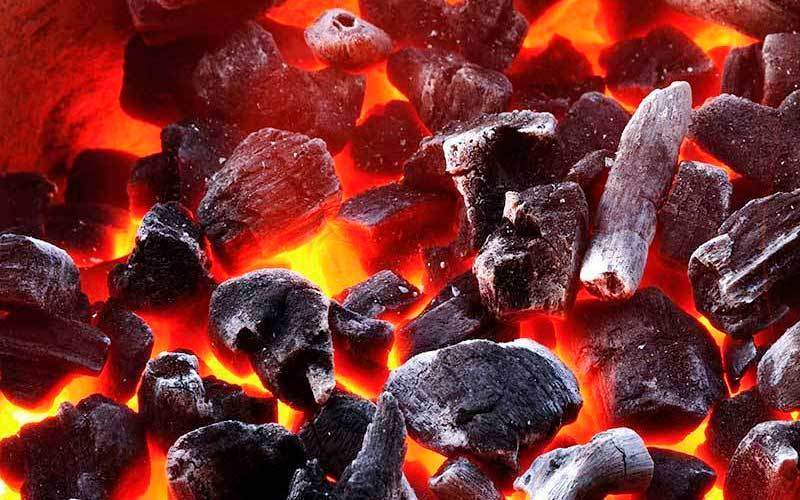 3 Easy Steps
With THREE simple steps you can grill with charcoal. Start enjoying the taste of the old way of grilling foods.
STEP ONE: LIGHTING CHARCOAL
A Chimney Starter is going to help this process. It's an upright metal cylinder with a handle. It has various small holes throughout it, and a wire rack inside for air to travel through.
Pour your desired amount of charcoal into the chimney and get ready to ignite.
I always recommend you NEVER use lighter fluid, to ignite your coals!
Lighter cubes are not toxic or dangerous like lighter fluid!

Light the cubes on the charcoal grate of your grill. Then place the filled chimney starter over top. After about 15 minutes you will see that your coals have become white-hot and ashy. Then you should disperse your lit charcoal into your kettle. I always use some insulated BBQ gloves to do so!"


STEP TWO: DECIDE ON DIRECT OR INDIRECT HEAT
What you plan to cook will determine your style of cooking zone.
First, let's define what both direct and indirect means when it comes to charcoal grilling.
DIRECT HEAT:
Direct heat is what you get when you are grilling your food directly over top of a bed of lit charcoal.
Report this ad
To set up your charcoal grill for direct cooking spread the lit charcoal in a single layer all the way across the charcoal grate. This creates a wide zone of heat to grill your food over. If you're concerned about the potential of a flare up, keep a small part of the charcoal free from other charcoal.
INDIRECT HEAT:
When the fire is off to the side of the food, you are using the power of indirect heat. Using a charcoal grill for indirect cooking it is important to spread the lit charcoal apart on opposite sides of the food. This creates one zone of indirect heat in the middle.
STEP THREE: FIGURE OUT YOUR COOKING TIME
Are you preparing something that takes 20 minutes or less to grill? Or is it something that may take over 20 minutes to grill?
Rule of thumb is if it's going to take more than 20 minutes to grill, consider some indirect heat.
Burgers, steaks, pork chops, chicken breasts are only a few examples that can be using direct heat.
Foods like whole chicken, baked goods, roasts of beef, pork, lamb need indirect heat. Consider some direct heat to color the meat either at the beginning or nearing the end of your cook.
Harnessing these easy steps should take your charcoal grilling game to the next level. remember, whatever you prepare in your oven you can prepare over your backyard grill!
Bonus Hack
Thanks for reading the article. These are the best aid Ive found to lighting my lump charcoal.