Hacking The Joe Jr
2 min read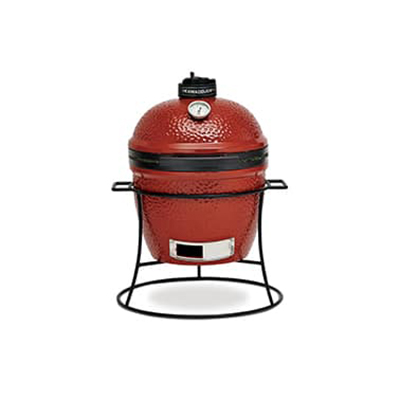 If you are a BBQ enthusiast then you probably have heard of the Kamado Joe Ceramic grill. Kamado Joe is the fastest growing brand in the kamado grill category. This grill is akin to the Big Green Egg but a lot nicer.
The entry level grill is the Joe Jr.
The Joe Jr. is an often neglected item because of its size but you can pimp out your Joe Jr. This grill is perfect for 2 to three people and with some effort can be used for tailgating.
People underestimate this grill because of its size and apparent cooking space. Heres the first hack I recommend which is similar to the grill expander for the Classic II.
Grill Dome sells this expansion grate which almost doubles your cooking space. Since it takes less time and less charcoal for the Joe Jr to come up to temperature this is an ideal accessory to hold a couple more burgers or a steak.
The next hack is for pizza. Since you can bring your Joe Jr up to temperature easy and fast there isn't a good reason why you can't be enjoying tasty homemade pizza on this little grill. Less charcoal and you will be enjoying a pizza on this Amazon Basic Preseasoned Pizza Pan. It's less than half the price of a fragile ceramic pizza stone from KJ and will last you a long time.
My final hack for the Jr. is in the form of a cover. This cover is perfect for keeping the dome of your Joe Jr. clean and tidy if you want to store it outside.
You can find the Joe Jr Dome only cover  at https://www.the-cover-store.com/kamado-dome-cover-156-classic?color=Black&cat=79
Come join us in the BBQDaddy Facebook group and share your favorite Joe Jr Hack or other grill tips